Regular price
$125.30 USD
Regular price
Sale price
$125.30 USD
Unit price
per
Black Friday Sale
Sold out
CYBER MONDAY DEAL: Enter CM10 at checkout to get an extra $10 off before it ends!
☑️ Restore your natural spinal alignment and correct postural imbalances
☑️ Save time and money with your NexoCare in-home physical therapist 
☑️ Naturally, eliminate back pain without the need to take pills 
View full details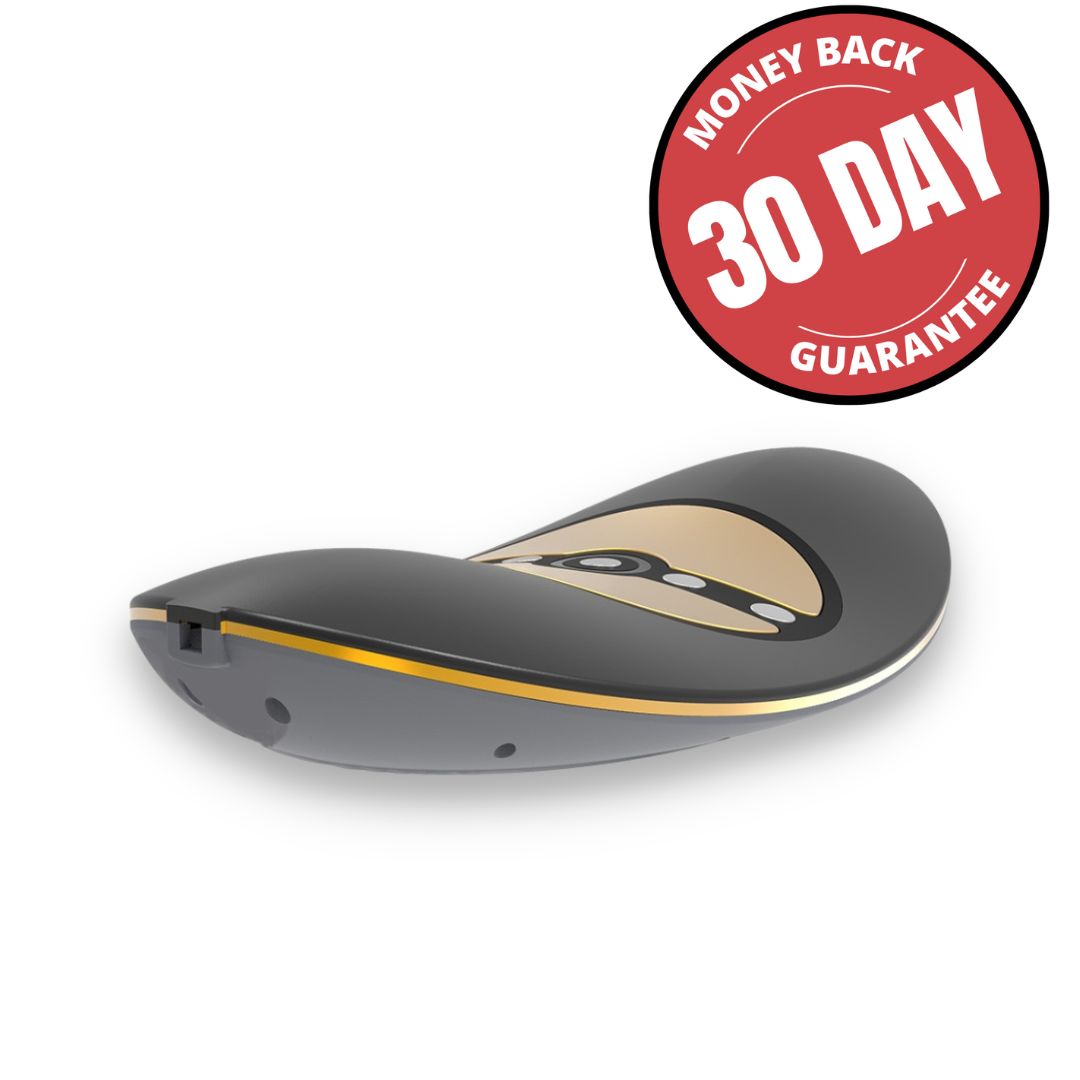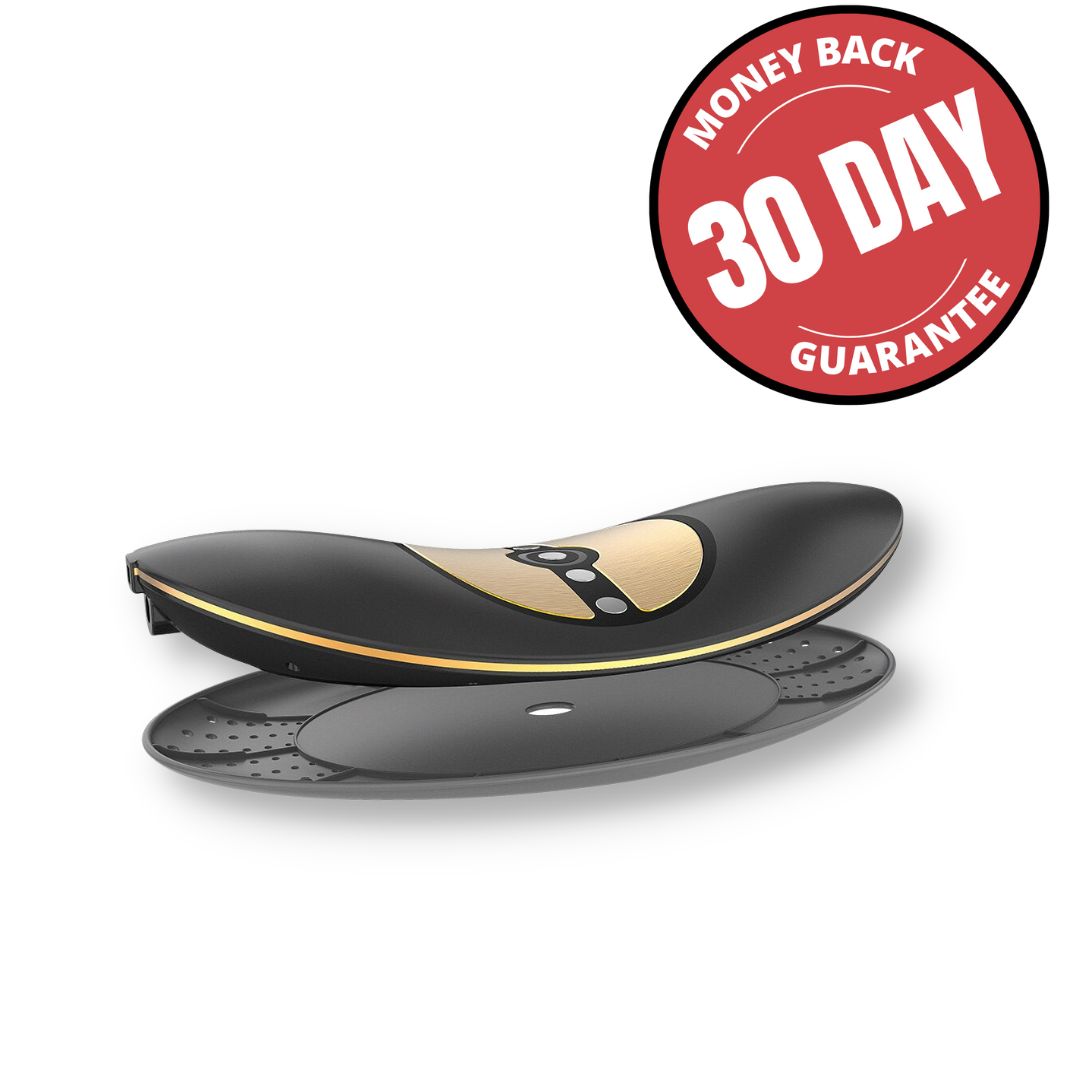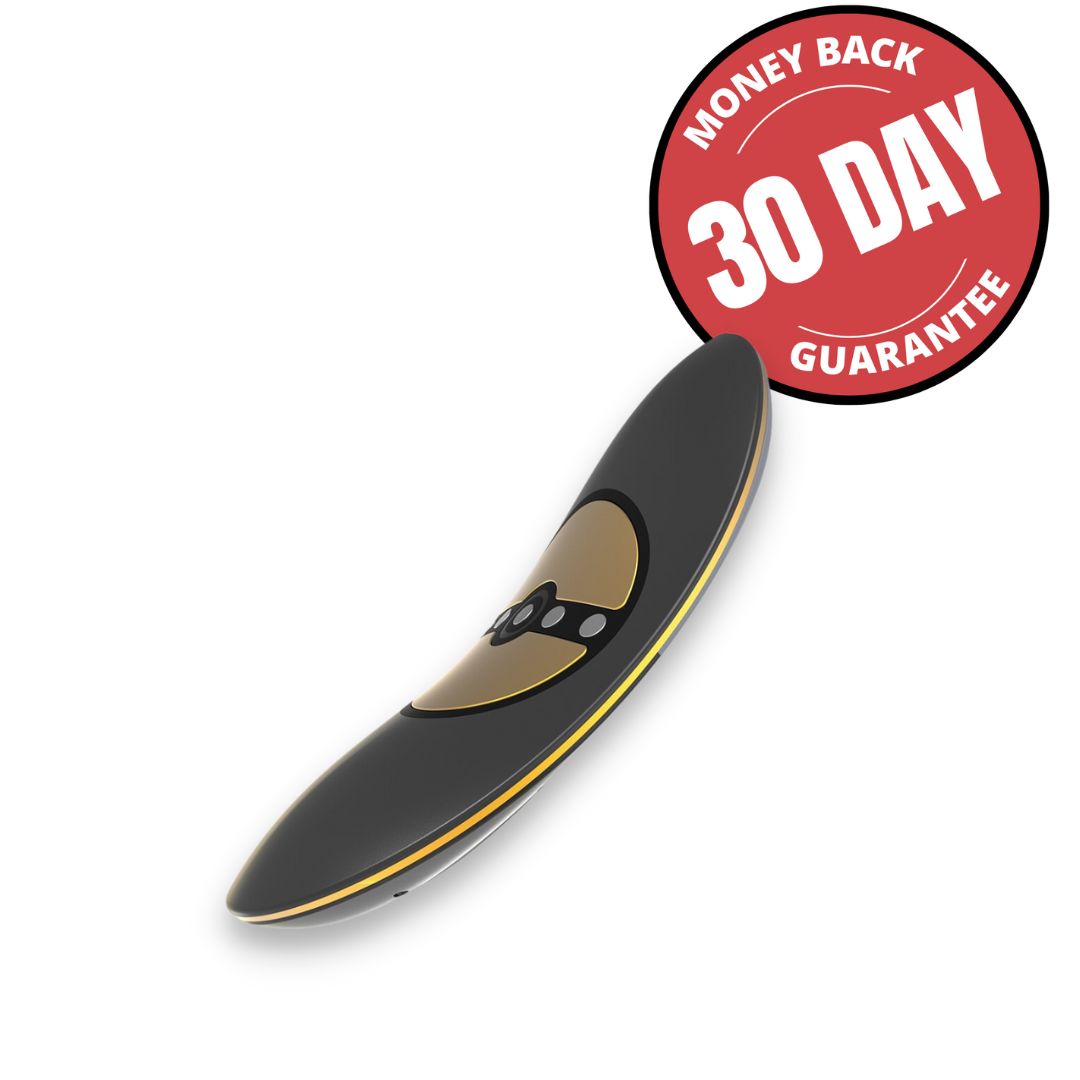 Collapsible content
Why does TheraRelief Cupping work so well?

By combining cupping therapy, red light therapy, powerful suction, and additional features, TheraRelief cupping device offers a comprehensive and effective solution for pain relief, enhanced recovery, and overall well-being.

Cupping Therapy: Cupping therapy has been used for centuries to promote healing and relieve muscular tension. With TheraRelief's smart technology, the dynamic cupping feature, accelerates recovery, and increases blood circulation to the cupping region, providing relief from knots and muscle pains. It effectively improves blood flow, reduces muscle tension, and supports long-term recovery.

Red Light Therapy: The inclusion of red light therapy in the device offers additional benefits for healing and recovery. The penetrating red light treatment stimulates cellular immunity, promoting healthier cells and faster recovery in the short term. It also helps remove toxins from the body, amplifies healing processes, and contributes to overall well-being.

Suction: The powerful suction provided by TheraRelief's cupping device enhances the effectiveness of the therapy. The negative pressure created by the suction cup improves muscle tissue flexibility and reduces inflammation. This allows for deeper range of motion and decreased discomfort, making it ideal for athletes and active individuals seeking to optimize their performance and recover faster.
How to use?

Attach the slip suction cup to the smart cupping device.

Simply use the device on fatigued area for 10-15 minutes per day. The massager has an inbuilt 20 min countdown timer when turned on.

This device combines the benefits of a one-push pressure release mechanism that releases cup pressure instantly, eliminating any discomfort while removing the cups.

It has 6 (base model) -12 adjustable modes for you to select from
Package includes

THE COMPLETE SET INCLUDES:

1 x TheraRelief Smart Cupping Device

2 x Filter Cotton

1 x USB Charging Cable

1 User Manual

 
Shipping

Order processing takes 1-3 business days before shipment. Once your item/s is dispatched, the estimated delivery time is:

☆ USA: 7-10 business days

☆ International: 10-15 business days

We offer a 30-day return policy for your satisfaction and peace of mind.
30-Day Free Trial: Love It Or Get A Refund

We offer a 30-day return window from the time of delivery udring which you can return the product and get a refund!
Introducing TheraRelief™ VIP CLUB
Welcome to the TheraRelief™ VIP CLUB, a premium community designed to enhance your pain relief, recovery, and overall well-being journey. By becoming a member of our VIP CLUB, you gain access to a world of exclusive benefits and join a community of like-minded individuals who share your passion for health and wellness.
CUPPING THERAPY REVOLUTIONIZED
Get rid of pain from any part of your body. Using technologies like red light therapy, deep tissue heating and dynamic cupping, our revolutionary cup massage will ease your pain, enhance recovery, and promote healing from anywhere.
SAY GOODBYE TO ACHES AND PAINS
The Smart Cupping Device incorporates a dynamic "breathing" technology, which increases blood circulation to the cupping region, accelerates recuperation, and relieves uncomfortable knots and muscle pains. This is simply the most effective at-home remedy for relieving muscle tension by increasing blood flow to the suction area and promoting long-term recovery
MAXIMIZE RECOVERY WITH INCREASED BLOOD FLOW AND MOBILITY
Improving blood flow is crucial for relieving pain by driving nutrients & promoting healing. Our therapeutic cupping device is designed to improve blood flow with heated technology & suctioning techniques allowing you to recover faster. This enhances mobility to stay active and move without discomfort
DETOXIFY & BOOST CELLULAR IMMUNITY
Our cutting-edge red light treatment penetrates the desired area & amplifies healthier cellular immunity removing toxins from the body.
GET RID OF SCAR TISSUES AND CELLULITE
Break down scar tissues and cellulite by gently moving TheraRelief over your desired area for softer, firmer skin that looks and feels incredible!
ALL IN ONE - ADJUST RECOVERY SPEED INTENSITY
The dynamic settings can customize the level of suction intensity and red light temperature to your preference. Choose from different modes, cupping, massaging, hot compressing, or scraping all in one device. 6 levels of intensity (base model) and up to 12 with our high-intensity variant for those with greater tolerance.
WHAT MAKES THE THERARELIEF™ SMART CUPPING DEVICE SPECIAL
Cupping is a time-tested therapy method with amazing benefits, but it's time for an upgrade.
REVOLUTIONARY & INNOVATIVE TECHNOLOGY
Dynamic Breathing Technology

The dynamic cupping is not as painful as regular cupping, and it will have better blood circulation accerlarating muscle recovery.

One Key Pressure Relief

Integrated one-push pressure release mechanism that releases cup pressure instantly, eliminating any discomfort while removing the cups.

Two Suction Modes

The Smart Cupping Device consists of a Soothing Breathing Mode on top of the of the Ordinary Cupping Mode, which can relieve pain, promote blood circulation and detoxification.

Red Light Therapy

Penetrating red light therapy encourages cellular immunity and development over time, while enabling faster recovery in the short term.
WORLD CLASS ATHLETES USE CUPPING THERAPY
WHAT PAIN?

Cupping treatment helps relieve muscular tension in the body and encourages blood circulation. Increased circulation aids in muscle healing and pain alleviation.

FASTER RECOVERY

Cupping stimulates the chemical breakdown of any toxins inside the body therefore if you want rapid muscle recovery, anticipate this to occur while using the Smart Cupping Device.

ENHANCED MOBILITY

The suction cup's negative pressure enhances muscle tissue flexibility, this will help decrease the inflammation level allowing deeper range of motion. Most active individuals use cupping therapy for these exact reasons
HEAR WHAT OUR CUSTOMERS HAVE TO SAY..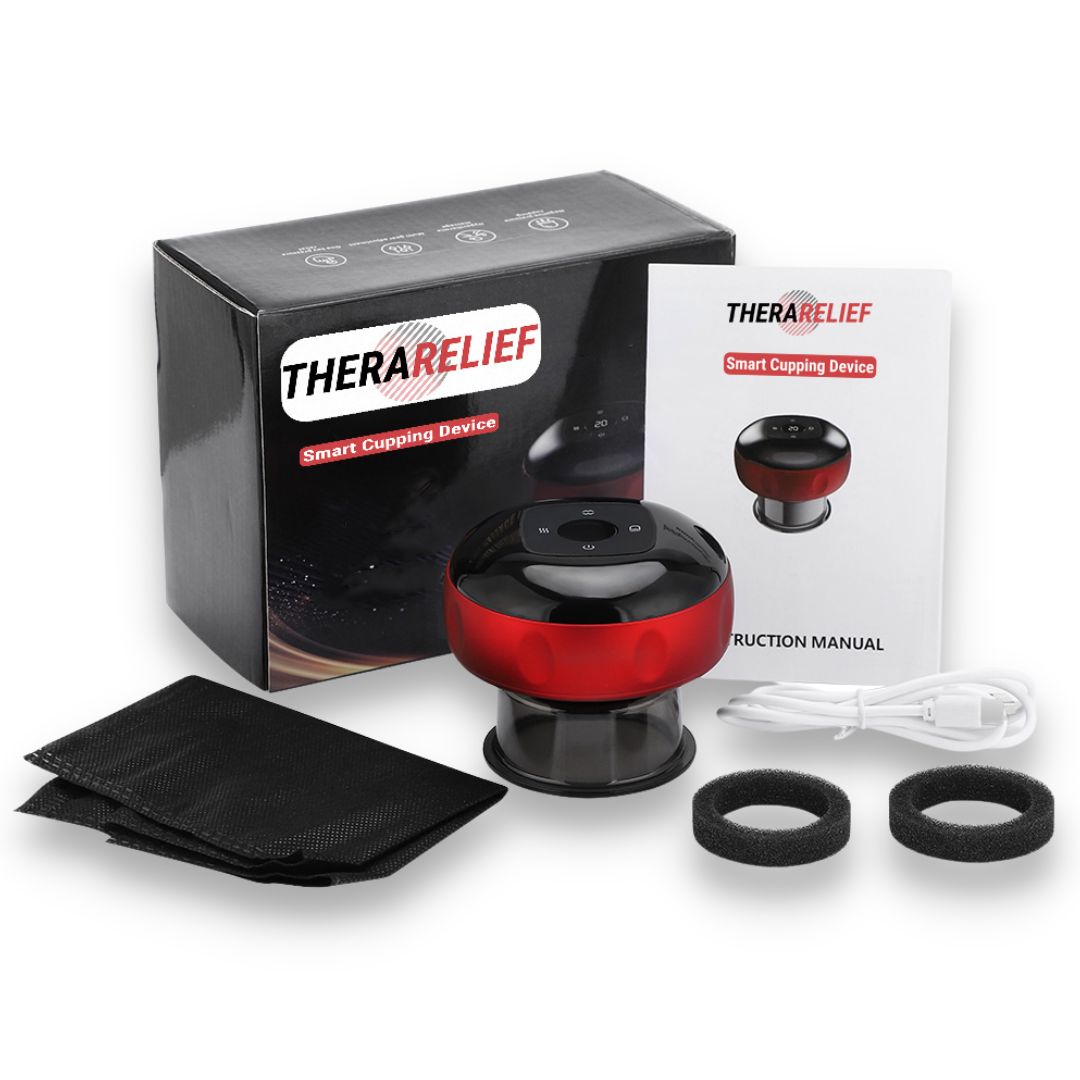 30 DAY MONEY BACK GUARANTEE
Get the TheraRelief™ Smart Cupping Device and try it for 30 days. We will refund your money if you're not satisfied.
FAQS
Is it safe?

Yes! Our devices feature timed releases to avoid overexposure and a single-press instant release in case the pressure is too intense. Each device also comes with a built-in heating unit that reaches temperatures as high as 50°C (122°F) without any flames! If you suffer from any skin conditions or health conditions, consult your physician before using.
How is dynamic cupping different from regular cupping?

The dynamic mode is not as painful and it will aid in better blood circulation
How long does the redness last on your skin?

It depends on how long you did the cupping. The redness usually lasts for 2 days to a week.
Are these used in professional therapy offices?

Yes! Cupping Therapy is very popular amongs therapist, health physicians, sport coaches, athletes and chiropractors around the world.
Do you have to use massage oil when using the suction mode (Deep Negative Pressure Mode)

No, it is not necessary to use massage oil. But we recommend you use them when cupping. Baby oil aslo works. Please do not apply too much every time to avoid the massage oils going into the massager.
Is this good for back knots?

Yes it can work for back knots. As we know Cupping and Gua Sha therapy can relax your muscles and improve blood circulation.
Is the battery rechargeable?

Yes! The battery is rechargeable and can work for 3-4 hours on a single charge.
Can you use it on your face?

No, it is not designed to be used on the face. It can be used on other parts of your body such as the neck, arms, legs, back, abdomen and lower & upper limbs, etc.
30 DAY MONEY BACK GUARANTEE
10,000+ Happy Customers...