Regular price
$179.00 USD
Regular price
$360.00 USD
Sale price
$179.00 USD
Unit price
per
Black Friday Sale
Sold out
✔ RESTORE YOUR NATURAL SPINAL ALIGNMENT AND CORRECT POSTURAL IMBALANCES
✔ SAVE TIME AND MONEY WITH YOUR NEXOCARE™ IN-HOME PHYSICAL THERAPIST
✔ NATURALLY, ELIMINATE BACK PAIN WITHOUT THE NEED TO TAKE PILLS
View full details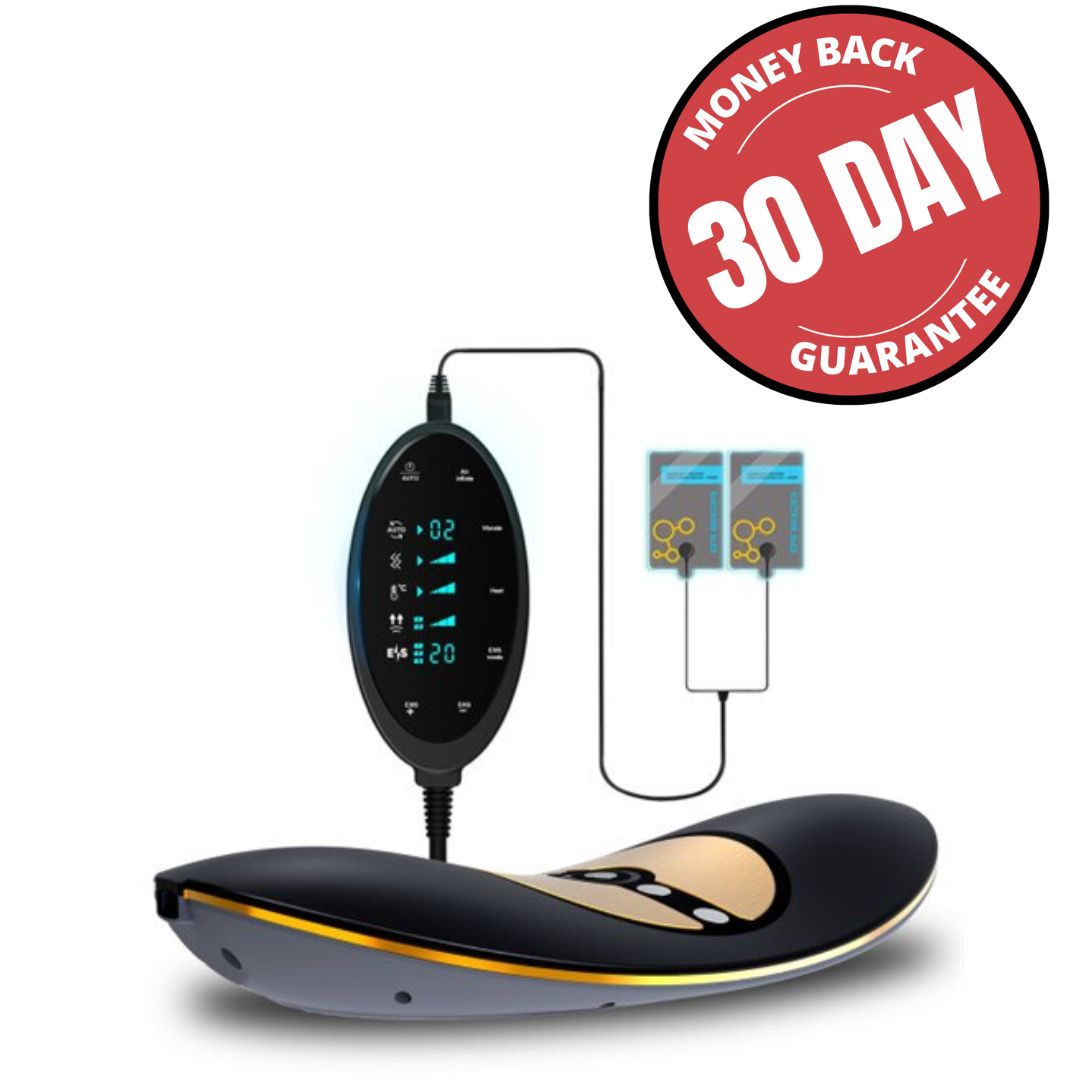 Collapsible content
How to use?

Simply plug in and use the device on fatigued area for 10-15 minutes per day. The massager has an inbuilt 15 min countdown timer when turned on.


Package includes

1 x NexoCare

1 x Base Plate

1 x Remote

1 x Adaptor/Power Cord

2 x EMS pads

1 x User manual
Shipping

Order processing takes 1-3 business days before shipment. Once your item/s is dispatched, the estimated delivery time is:

☆ USA: 7-10 business days

☆ International: 10-15 business days
Five-in-One
NexoCare™ utilizes 5 proven methods to provide ultimate satisfaction and lasting lower back pain relief. Here is how each works to banish pain within a soothing 15-minute massage session.
DYNAMIC AIR TRACTION & STRETCH
Backache? Lower Back muscle pain and strain? NexoCare™ uses the world's first decompression therapy to relieve spinal pressure and remove back pain. With the new dual air traction design, you can adjust the height for your body size and position. Having this futuristic therapy will get you a pain free back. The synergistic effect of these technologies combined creates an exponential boost in your wellbeing.
ADJUSTABLE THERMOTHERAPY FOR NATURAL HEALING AT HOME
NexoCare is designed to adapt to YOUR needs. Every pack pain is different, be it heat level or stretch. It's been scientifically proven that heat therapy increases soft tissue extensibility, and oxygen flow, reduces pain, improves circulation, and accelerates damaged tissue healing. Select between 3 soothing heat levels.
ELECTRIC MUSCLE STIMULATION (EMS) THERAPY
EMS has been used for many years in physiotherapy, helping people lose weight, gain muscle, treat injuries or eliminate stress; all without the risk of injury. Nexocare has Electrode massage pads for EMS which precisely targets the area to ease pain. With 3 modes and 20 intensity levels, this therapy is suitable for all types of muscle pain.
LOW FREQUENCE PULSE ELECTRO THERAPY
Low-Frequency Vibration Massage is the ultimate ingredient for relaxing muscle spasms and getting maximum relief and pleasure after long working hours. It instantly improves muscle mobility and flexibility and relieves tension.  Switch between 3 relaxing intensity levels
SMART INFARED THERAPY FOR CHRONIC BACK PAIN
Infrared Light Therapy stimulates deep tissue repair and regeneration at the cellular level, allowing your body to heal itself more quickly and efficiently.
WHAT MAKES NEXOCARE™ SPECIAL
Simply, it works wonders. Relief, stretch, decompression, comfort, massage - feel it all at once.
TESTIMONIALS
"

A million times yes to this device! Ive spent years trying to find the right device for my needs and FINALLY have found it. I am so grateful that this has provided the kind of relief I needed as it was a bit expensive but SO SO worth it.

Amelia C

"

My favorite gift given to me this year - received at Christmas and have been using it for the past few days and its honestly fantastic - it gives all the right support, it massages well, it's high quality - what more could you want.

Jeremy L

"

If you're looking for something to help with chronic back pain buy this! I work a labor intensive job and suffer a lot with my back due to this, I have been using this for about 8 weeks now and feel great after each use.

Christine K
REVOLUTIONARY & INNOVATIVE TECHNOLOGY
Easy to operate

With the Smart Touch Control LCD panel adjust intensity, heat levels and therapies or switch to fully automatic mode with your intensity settings saved.

Travel Friendly

The compmact design of NexoCare™ helps you carry it in your backpack anywhere. Simply plug it in and use whenever needed

Automatic Timer

The built in automatic 15 min countdown cycle makes your life easier. The NexoCare will switch off automatically once the 15 min interval is reached
WHATS INCLUDED
NexoCare™ + Base Plate

Digital Controller

Adaptor + Power Cord

Two EMS Pads
FAQS
How do I use NexoCare™ to get the best results?

Simply plug in and use the device on fatigued area for 10-15 minutes per day. The massager has an inbuilt 15 min countdown timer when turned on.
Is this safe to use?

Yes! Absolutely. NexoCare™ is extremely safe to use. . Each device has been quality tested before shipping to ensure it is working at its capacity.
Which mode is the best?

Our devices have automated functions that can be tailored through their remotes for your specific needs.
Where can I use this?

Anywhere with a supportive flat surface. - Floor - Sturdy Bed - Carpet Area
Is there a size and weight limit?

The NexoCare™ was developed to suit the majority of body sizes. Maximum weight limit 140kg/315lb
Are the Electro Therapy pads safe?

Yes. The current that runs through the pads are similar to a TENS machine. The pads have been quality tested and assured for safety. The pulsation may take time to get used to and we suggest starting intermittently.
Will this fix my back pain?

The NexoCare™ is a medical-grade device that assists in treating and managing lower back pain.
30 DAY MONEY BACK GUARANTEE